Skip to Content
The Laundry Room
Visit our "laundry room" and you will find an excellent selection of energy and water-efficient washers and dryers. Ask our professional sales team about local rebates and energy star appliances including front load and top load washers, as well as stackable and commercial/coin laundry.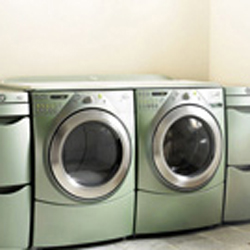 Front Load Laundry
Front load laundry is both water and energy-saving and extremely gentle on clothes. Steam and sanitary cycles offer the ability to do extra duty cleaning or light refreshing of clothes. They can be purchased in a variety of exciting colors and raised on pedestals for ease of loading.
Top Load Laundry
Convenient top load washers are now available with all the same features and benefits as front load laundry-water and energy-saving and gentle on the clothes. Also available are the traditional top load laundry with agitators.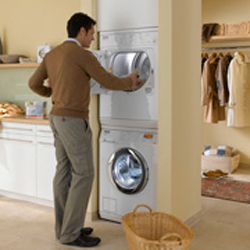 Stack Laundry
Washers and dryers can be purchased in an upright configuration for saving space. Models are available as a single unit or with a kit which enables a dryer to be stacked upon a washer. Stackable laundry is available in both full and compact sizes as well as front or top load designs.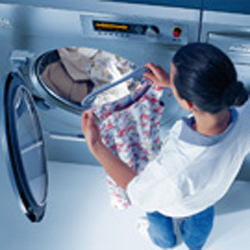 Commercial & Coin Laundry
Built-in Distributors offer commercial and coin laundry for property managers, b and b's and institutions. Available in top and front load configurations.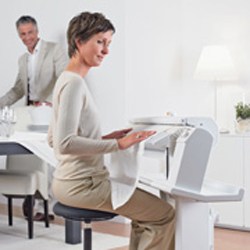 Rotary Irons & Ironing Centers
Rotary irons are excellent for pressing sheets and table cloths. Built-in ironing centers are convenient and space-saving and can be folded into a wall or cabinet when not in use.