Skip to Content
San Benito County, CA's Cleanup Appliance Experts
After cooking an amazing meal, you have dirty dishes, food waste, and trash to deal with before leaving the kitchen. With Built-In Distributors' inventory of cleanup appliances, we can help you complete your kitchen collection with a new dishwasher, trash compactor, or garbage disposal. You can choose from the industry's top brands, like KitchenAid®, insinkerator®, Viking®, Bosch®, Broan®, and Jenn-Air®. Let our staff of knowledgeable sales specialists guide you through one of our showrooms to find the size, power, features, and appearance you need for your new appliances. Once you've chosen the make and model you want, make sure you inquire about our delivery and installation services for locations in Monterey, Santa Cruz, and San Benito County, CA.
Our Inventory of Cleanup Appliances
When choosing a cleanup appliance for your kitchen, our professional sales team will apply its expertise to help you match a new dishwasher or trash compactor to your space and design. We'll discuss your specific needs for power, aesthetics, and more so that we can recommend the right model for your budget. Our selection of cleanup appliances includes:
Dishwashers
Today, you will find dishwashers that are quiet as well as water- and energy-efficient. Our selection of fully-integrated dishwashers includes options with sleek designs, towel bar handles, and hidden controls. You can choose a model in black, white, stainless steel, or specialty colors. The standard-size dishwasher is 24" wide, but we also have slim line models available that are 18" wide.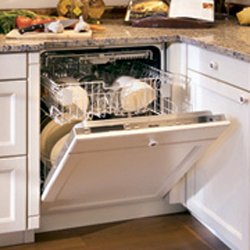 Integrated Dishwashers
The design of integrated dishwashers allows them to include wood panels over the front and custom hardware for an appearance that blends perfectly with your kitchen cabinetry. We have models available with a fully-integrated or semi-integrated design.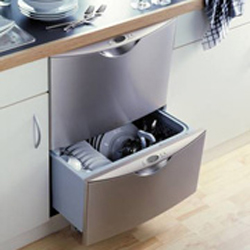 Dish Drawers
Dish drawers are unique additions to your kitchen that load easily, use energy efficiently, and are convenient. We have models available in single-drawer units or double-stacked units. You can add panels from custom cabinetry to give them an integrated design, and you can choose one in black, white, or stainless steel.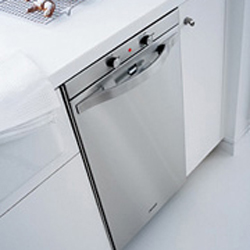 Trash Compactors
A trash compactor reduces the number of trips you take to the garbage bin, making it a convenient kitchen feature. You can attach wood panels to the front and finish one in a variety of colors. We provide trash compactors in 18", 15", and 12" sizes.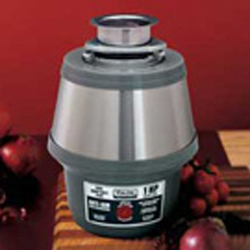 Disposals
A disposal in your sink makes food waste removal easy. The models we carry feature insulation to keep them quiet and heavy-duty blades to take on your everyday cooking scraps and refrigerator throwaway items. You can choose from a variety of power levels.