Skip to Content
Serving Monterey County, CA's Refrigeration Appliance Needs
Your property's kitchen space is a valuable part of the home, where family and friends congregate for meals and to socialize. The quality of your refrigeration appliances can enhance your home's style. Built-In Distributors has a multitude of makes and models from which to choose at our showrooms in Santa Cruz and Seaside. We also offer delivery and installation to locations in Santa Cruz, San Benito, and Monterey County, CA. Let our team of appliance experts show you the difference our outstanding custom services and extensive collection of refrigerators can make in your kitchen project.
Types of Refrigeration Units We Offer
Find a make and model of refrigerator that suits your space, design, and purposes. We have a huge collection of brands from which to choose, with options to customize the appearance of your unit and even integrate it with the look of your cabinetry. Built-In Distributors has all the following options available to customers: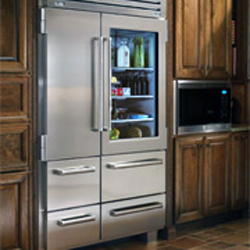 Built-In
These refrigerators are installed to be flush with the cabinetry. Stainless steel and custom wood panels are finishing options to give them a sleek appearance or integrate them with the look of the kitchen. We have all refrigerator and freezer models available, including French door, bottom freezer, and side-by-side options.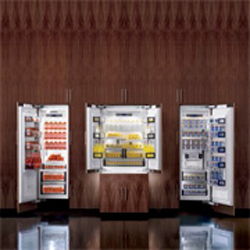 Columns
This type gives you the freedom to place a refrigerator anywhere in the kitchen. Instead of limiting yourself to one location, you can spread units around the kitchen or place several in a row.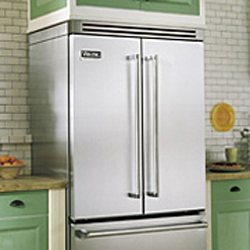 Shallow-Depth
These models are semi-flush and freestanding, and they extend just a few inches beyond the cabinetry. The typical width for a shallow-depth unit is 36 inches, and you can add wood panels much like the built-in options.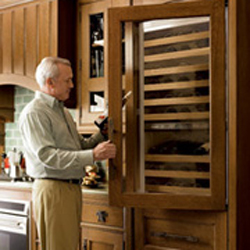 Wine Storage
These units are designed to preserve wine optimally. Options we carry include models that feature UV-protective display glass, vibration reduction, and smooth-glide wood-trim racks for bottles. Some units we carry also have separate temperature zones.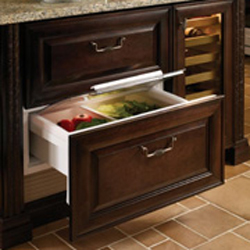 Drawers
Refrigerator drawers work well for kitchen islands that feature prep sinks, as well as many other areas around a home. They offer easy visibility and reach, and you can achieve an integrated design by paneling a unit in wood.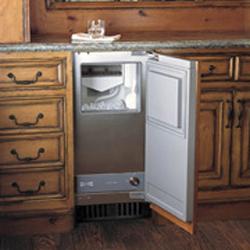 Under Counter
Bar areas, master suites, home theaters, guest quarters, and family rooms can all benefit from an under counter refrigerator. These units offer icemakers and work well as beverage centers.