Skip to Content
Covering the Ventilation Needs of Monterey County, CA
For safety, convenience, and aesthetic purposes, you want your completed kitchen project to feature a hood that complements the cooking appliances you have in place. At Built-In Distributors' showrooms in Seaside and Santa Cruz, our sales team will guide you through our vast inventory of high-quality, brand-name hoods, hood liners, and downdraft systems. You can find a standard design to suit your cooking space or select a custom hood for a unique look. When you make your choice, be sure to take advantage of our delivery and installation services for customers in Santa Cruz, San Benito, and Monterey County, CA.
Ventilation Appliances We Provide Our Customers
We carry a wide assortment of ventilation appliances from high-quality brands like Zephyr®, Sirius®, Ventahood®, Kobe®, and many others. You can trust Built-In Distributors for a quality selection, delivery, and installation of:
Wall Hoods
We have wall hoods available in a variety of shapes, sizes, and powers. These hoods are designed to complement the cooking appliances in your kitchen. Hoods with Euro-style designs are sleek and ideal for more standard cooking appliances, while pro-style wall hoods are powerful enough to exhaust the fumes and heat given off by high-output gas burners. You can also build blowers into the hood, which are housed externally or located in an attic or crawl space for noise reduction.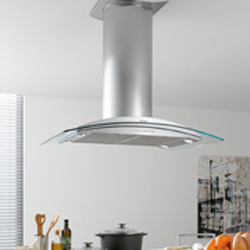 Island Hoods
These hoods are designed for use with a cooking appliance away from a wall like a kitchen island. They're finished on all four sides and can look sleek and modern, custom-finished, or pro-style.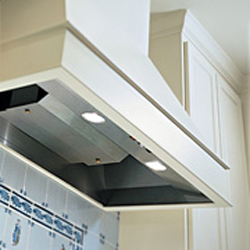 Hood Liners
A hood liner provides the filters, blowers, and lighting for your cooking appliances just like a normal hood, only you can wrap the liner in a warmer material like plaster or wood. Finish the custom appearance of your ventilation with stone moldings or decorative tile.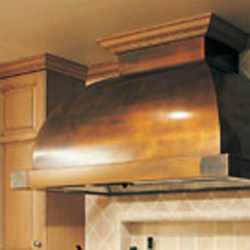 Specialty or Custom Hoods
You can create a custom hood from scratch or use standard designs, depending on the appearance you desire. Typical materials used to create a custom hood include antique bronze, hammered copper, and stainless steel with a brass trim. These materials give your hood a unique design. We have these hoods available in a variety of finishes and in colors.
Downdraft Systems
The primary location for downdraft ventilation is where the cooking is performed on a kitchen island or where an updraft hood isn't possible. We have a variety of blower options and system sizes available for you to consider.