Skip to Content
The Outdoor Kitchen
Outdoor grilling is a year-round activity where family and friends gather on the weekends, holidays or for everyday grilling. High-quality stainless steel grills feature rotisserie with infrared elements, smokers, interior lights and side burners. Available in a variety of sizes and options. Visit our showroom for a complete selection.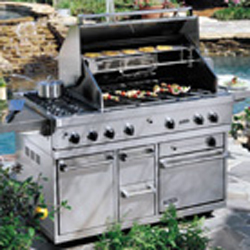 Outdoor Grills with Carts
Outdoor grills can be purchased with a stainless steel cart on wheels for ease of use-great for decks or patios. The carts can accommodate side burners, ovens, warming drawers and storage for propane tanks.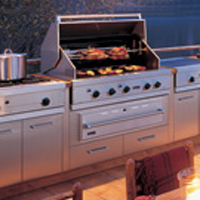 Stainless Steel Cabinets
Durable stainless steel cabinets are available to custom-fit all your outdoor appliances. Several choices of granite countertops finish off the look.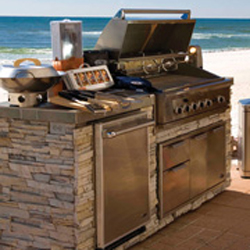 Custom Grill Settings
For the ultimate in outdoor cooking, grills can be built into custom islands or bar settings that enhance your outdoor environment. Plaster, stone, tile, and granite are typical outdoor materials used to house grills, sinks, and refrigerators. Stainless steel doors are also available to allow access for under counter storage.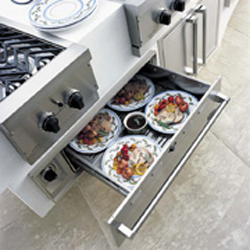 Outdoor Appliances
For the ultimate in outdoor kitchens: ovens, woks, side burners, refrigerators and dishwashers designed for outdoor use complement high quality, durable stainless steel grills.
Heat Lamps
Heat lamps allow for comfortable entertaining day or night. Heat lamps can be freestanding or built-in for either natural gas or liquid propane.